Hello to all….
Roger Jeanfaivre-K1PAI, Hartford-Tolland County SKYWARN Corodinator was recently featured in an article in the New Britain Herald newspaper on June 13th, 2007. The New Britain Herald article and pictures of Roger are posted below:


NEWINGTON – Although Roger Jeanfaivre has always had trouble seeing, he remembers being fascinated with lightning and weather when he was growing up.
His interest in weather continued even after he lost sight completely at the age of 24. While attending Oak Hill School for the Blind in Hartford, Jeanfaivre became interested in ham radio. After getting his license to operate one, Jeanfaivre would broadcast forecasts he made up.
"People used to think that I worked for the [National Weather Service]," Jeanfaivre said.
Now he does.
People turn to the weather service for information when severe weather strikes. To make sure its information is right, the National Weather Service turns to an organization of amateurs called Skywarn.
"Skywarn provides a very valuable service to the NWS," said Betsey Doane, state section manager for the American Radio Relay League. "We can communicate quickly and directly and provide rapid response to information throughout the state."
Skywarn is made up of independent ham radio operators who are also trained weather spotters. They report wind gusts, hail size, rainfall and cloud formations that signal severe weather.
"Spotters are the people outside during the day. Their weather tools are their ears and their eyes," Jeanfaivre said. "The NWS radar is a few thousand feet up, so they can't see what is happening on the ground."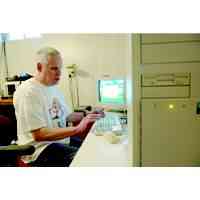 In 1994, Jeanfaivre became the state Skywarn coordinator and kept responsibility for Hartford and Tolland counties in a 2002 reorganization. He enjoys Skywarn because it allows him to blend two of his favorite hobbies, weather and ham radio, devices that work even when other forms of communication – computers and telephones or cell phones – do not.
Skywarn gathers firsthand reports of severe weather events and feeds them into local forecasts as quickly as it can. Anytime NWS issues a severe weather warning, Skywarn goes to work setting up nets.
"Nets are a gathering of radio amateurs," Jeanfaivre said. "We gather and activate the net and use repeaters … A setup that takes a little signal and broadcasts it over a wider area which NWS can pick up. Because of the information that we're giving them, NWS can issue a watch or a warning. That's what the public sees on TV or hears over the radio."
During recent thunderstorms, such as one that produced a funnel cloud in Southington and a tornado warning in New Haven County, Jeanfaivre and his team of spotters were at work, verifying the NWS radar images.
Thanks to the evolution of the Internet, NWS can get Skywarn reports in under a minute.
"In 1994 we weren't tied into the Internet," Jeanfaivre remembered. "With the betterment of the new technology, they can get our reports and it supplements what they see. NWS can link into our system and get the reports as they come in. It's instantaneous."
The work is "a joy" for Jeanfaivre.
"It's combining my weather interests with my skills as a communicator," Jeanfaivre said. "It's enjoyable … We're really not weather forecasters, we're communicators, and it's my job to get the information provided by the spotters to the NWS."