Save the Date 60th Birthday of MEMA Framingham HQ Bunker Birthday Celebration – Saturday 11/4/23 – 11 AM-2 PM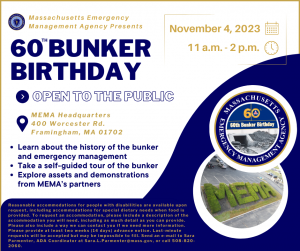 Allen Phillips – MEMA East Regional Manager writes:
The Massachusetts Emergency Management Agency is excited to host a Bunker Birthday celebration on November 4, 2023, marking 60 years since former President Kennedy dedicated the facility in 1963. We'll be opening our headquarters to the public for tours and to learn about how emergency management has evolved over time.
We hope you can join us to celebrate MEMA's history. The event will be open to the public from 11 a.m. to 2 p.m.
Allen Phillips, MSDM
Regional Manager, MEMA East